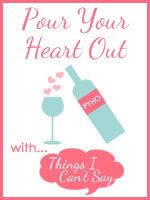 The world of blogging is HUGE, isn't it? I never knew how many professional mommy/wife blogs there were until recently! I was reading a friend's blog and then clicked on someone else's link from that page and then someone else's... until I was sufficiently overwhelmed by the pure volume of really good mommies and wives out there!
So good, in fact, that they have anywhere between a hundred and two thousand followers! They even have sponsors and copyrights for their blogs. Crazy! That's amazing to me! I know I'm probably naive and this is news to no one but me, but I am just, well... amazed!
I have a friend who recently quit blogging because she didn't understand why her words, or anyone elses, were any more important than anyone else's and why they needed to be published on a blog screaming for others' attention.
And it got me thinking. I'm fairly new, or at least naive, to this blogging thing, right? I guess I really don't know why anyone should take time out of their day to read my blog. It's nothing terribly exciting. I'm not a "super"-mom or wife. I don't have exciting or adventurous things to document about my day-to-day life!
I began to get a little self-conscious about the fact that I have only a handful of followers. And most of the time no one comments on my blog. So... why am I wasting time on something that not many people care about or want to set aside time to read (especially because I am no writer by any stretch!).

Skip to a related story... the other morning I stumbled upon someone else's blog. She was pouring her heart out about self-esteem issues that she struggled with stemming from a childhood illness. I didn't know who she was, but it moved me because I, like her, have also struggled with a childhood disease (nothing life-threatening), that has traveled with me through time. The physical effects come and go pretty mildly, but I've carried the emotional affects with me throughout my life. Things that her and I, as it seems, are trying to shed and still get past some twenty years later!
I connected with her. And I imagine that's why she was blogging... because she wanted to be heard. And her commenters/friends wanted to be there for her. Because God has placed in us a desire to be understood and to understand and to comfort and be comforted and to celebrate with and to be celebrated. And what a great way, in the 21st century, to do it by putting it out there in bloggyland!
Another thing, blogging has become somewhat of a therapy to me. I have never been a writer, but I feel like being able to articulate my thoughts and experiences day to day, help me process them, help me see and map out a little more clearly what God IS doing in my day-to-day seemingly mundane life.
So, reader or no readers, this blog is for me to remember what I was doing today and yesterday! And whether my words are read by the multitudes or by just a few, at least I'm sharing a little bit of my life with others, which is good.